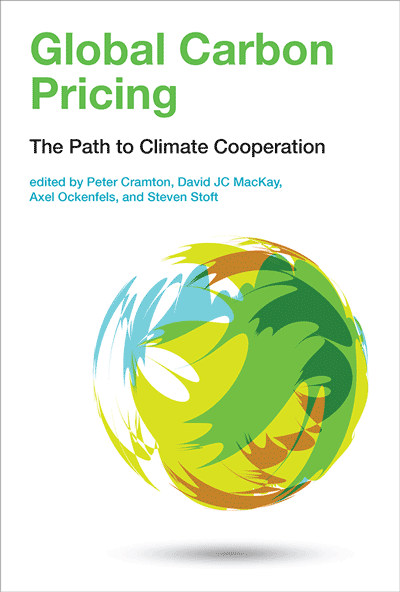 Sign up below to receive a free 120 page sample of this forthcoming book from MIT press. Available soon on Amazon. List of Authors:
David JC MacKay was Chief Scientific Adviser to the UK Department of Energy
and Climate Change.

Joseph E. Stiglitz is the 2001 Nobel Laureate in Economics
Jean Tirole is the 2014 Nobel Laureate in Economics
Martin L. Weitzman is Professor of Economics at Harvard University
William Nordhaus who has been publishing papers on climate change since 1977
Ottmar Edenhofer who served as Co-chair of WG III of the IPCC
Also: Richard N. Cooper, Peter Cramton, Christian Gollier, Éloi Laurent, Axel Ockenfels, Ian Parry, and Steven Stoft
The sample includes Chapter 1. Why Paris Did Not Solve the Climate Dilemma
by Richard Cooper, Peter Cramton, Ottmar Edenhofer, Christian Gollier,
Éloi Laurent, David JC MacKay, William Nordhaus, Axel Ockenfels,
Joseph Stiglitz, Steven Stoft, Jean Tirole, and Martin L. Weitzman
Remarkably, all 13 authors agree with the core principle of the book — that a common international commitment to carbon pricing can reduce the free-rider problem and help protect nations that cooperate. In fact, the book's major argument for global carbon pricing is not economic efficiency (still a good reason), but rather that it fosters cooperation.
If you agree that the world needs more cooperation, give us a link.
Thanks very much!
—Steve, Peter and Axel